PXL/HO/Cir-113/2019-20 Dt: 03.03.2020
Hyderabad
Dear Sir/Madam,
Subject:DGFT Notification no 50/2015-2020 dt.3rd March 2020 on "Amendment in Export Policy of APIs and formulation made from APIs"
We would like to bring to the notice of member companies that the Office of DGFT has issued a notification dt: 3rd March 2020 on the "Amendment in Export Policy of APIs and formulation made from APIs" restricting the export of the following products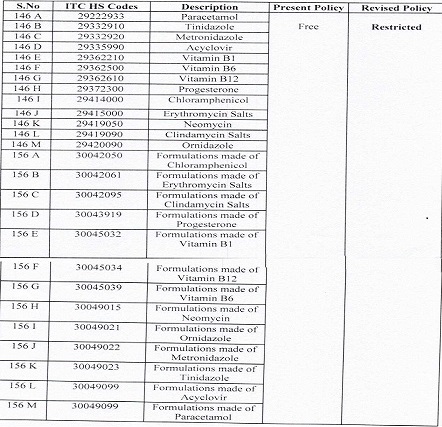 Member companies are requested to take note that the following products have been kept under "Restricted" Category. Companies whose supplies are for shipment at ports and products meant for export markets may suitably apply for the license online "under the Restricted Export Item (Non SCOMET) with the DGFT website" and submit a copy of the filled in application to the DGFT, New Delhi.
It may also be noted that Para 1.05 (b) of Foreign Trade Policy 2015-2020 wide its notification No.05/2015-2020 dt:s5.April.2018 giving the exporter provision of clearing the shipments with Irrevocable Commercial Letter of Credit (ICLC).The para reads as :
Para 1.05 (b) Item wise Import/Export Policy is delineated in the ITC (HS) Schedule I and Schedule II respectively. The importability/ exportability of a particular item is governed by the policy as on the date of import/export. The date of import/ export is defined in para 2.17 of HBP, 2015-20. Bill of Lading and Shipping Bill are the key documents for deciding the date of import and export respectively. In case of change of policy from free' to 'restricted/prohibited/state trading' or 'otherwise regulated', the import/export already made before the date of such regulation/restriction will not be affected. However the import through High Sea sales will not be covered under this facility.
Further, the import/export on or after the date of such regulation/restriction will be allowed for importer/exporter has a commitment through Irrevocable Commercial Letter of Credit (ICLC) before the date of imposition of such restriction/ regulation and shall be limited to the balance quantity, value and period available in the ICLC. For operationalising such ICLC, the applicant shall have to register the ICLC with jurisdictional RA against computerized receipt within 15 days of imposition of any such restriction/regulation.
Whenever, Government brings out a policy change of a particular item, the change will be applicable prospectively (from the date of Notification) unless otherwise provided for.
Meanwhile, Pharmexcil is also representing the matter to the DGFT for relaxing the restrictions on the shipments lying at ports and also for the supplies meant for other countries.
Member companies may apply for license with the DGFT under the following head: http://dgftcom.nic.in/eComapplications.html and click on Restricted Export Item (Non SCOMET)
For more information, please visit the following link: http://dgftcom.nic.in/scomet/ResExpItemNonScomet_Manual.pdf
With regards,
Uday Bhaskar
Director General
Encl: 50/2015-20/2019-20 /03/03/2020