PXL/HO/Cir-038/2017-18 Date: 28.07.2017
To,
All the Members of Council,
Dear Sir/Madam,
Subject: Opportunity for SMEs to participate in CPhI Worldwide from 24-26th October 2017, Messe Frankfurt, Germany
We refer to our circulars dt:15th July and 20th July 2017 on the above subject and based on the requests received from Small and medium scale member companies, Council is offering stands of 6 sqmtrs and common space in Hall 9 and 9.1 at CPhI Worldwide this year.
The layout of Hall 9(India Pavilion) and 9.1 is available as attachments.
Hall 9 : India Pavilion (Stands of 6.25 and 6.87 available)
Hall 9.1 : India Pavilion (15 Sqmtrs stand and Common space slots )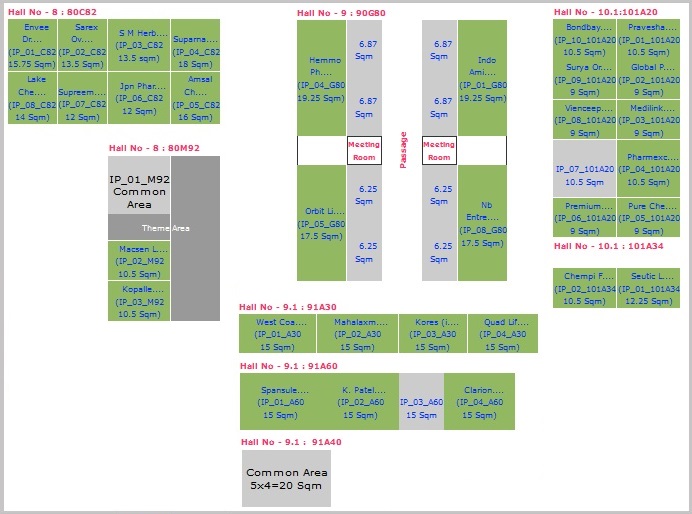 Stall Allocation:
The details of stalls and their sizes will be uploaded on the Pharmexcil's website on 31st July 2017 for online bookings. Limited options will also be available for participation in the common area.
Members are requested to book the stalls as per the following details:
· The booking of Stall would be online and the approved layout will be opened for online booking (www.pharmexcil.com) from 3.00 PM of 31st July 2017.
· The minimum made up stall size is 6 sqmts.
· The cost of stall is highly subsidized as the participation of Pharmexcil is under MAI scheme.
· Members opting for common area and stall booking related queries need to write directly to dd.smk@pharmexcil.com or contact on 040 23735462/66
· Members having a stall with India Pavilion at this event are not allowed to book another stand.
Charges/Conditions:
The cost of made up stall for Pharmexcil's member will be Rs. 62,000/- + GST 18% per SqMtr (corner stand Rs.62,500 +GST 18% per SqMtr)
· The cost of Common area was initially charged at Rs. 2,25,000/-.For the benefit of SMEs, it is decided to charge Rs.2,00,000. Members who have paid Rs.2,25,000 and taken common space in the Pavilion will be refunded with Rs.25,000.
· Members should pay 50% advance on booking the stall(before 1st August 2017) and remaining 50% before 10th August 2017
· In case of non-receipt of payment by 10th August 2017, 50% cancellation charges shall be paid to the Council and the canceled space will be allotted to members in the waiting list, without notice.
· Members are requested not to book more than one stall. In case of large area requirement, the booking can be done for two stalls. However, a written note should be sent by e-mail. This is to ensure that everyone gets fair chance for participation.
· No refund shall be made for cancellations after booking.
The charges will be all inclusive i.e. INSURANCE, STAND CLEANING, DIGITAL PRODUCT DIRECTORY REPRESENTATION FEE etc.
Members will surely derive more benefits by participating in India Pavilion.
The DD/Cheque can be directly sent to Hyderabad office of Pharmexcil India (Pharmaceuticals Export Promotion Council of India)
Looking forward to your participation.
With Regards,
Udaya Bhaskar
Director General